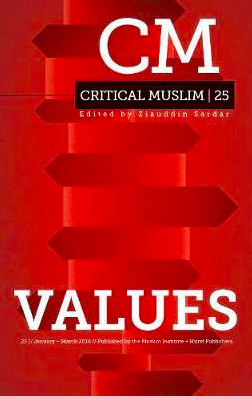 Merryl Wyn Davies tries to make sense of values in the post-truth age; Kabir Helminski provides a primer on Islam and human values; Boyd Tonkin welcomes strangers; Mohammad Moussa urges us to embrace pacifism; Gail Boxwell learns the meaning of 'givenness'; Hannah McClure whirls into ecstasy; a story by the father of Catalan literature, Anselm Turmeda; and Maha Sardar's list of ten persecuted communities.
Rowan Williams explores Islam, Christianity and pluralism; Mohammed Hashas explains why he is still a Muslim; Maurice Irfan Coles teaches compassion; Shaista Aziz is fed up with everyday bigotry; Tahir Abbas encounters Generation M; Khidr Collective's 'other voices'; and poems by Maya Abu Al-Hayyat.
To read more subscribe to Critical Muslim.